Charles A Patout Endowed Scholarship at SLCC
Gulf Coast Bank Donates $50,000 for Endowed Scholarship at SLCC
June 22, 2021
Gulf Coast Bank and the Patout Family are establishing a $50,000 scholarship endowment at South Louisiana Community College (SLCC) in memory of Charles A. Patout, founder of the community bank. This investment is part of the bank's celebration of 50 years in business this year.
"We chose to create the Charles A. Patout Endowed Scholarship because SLCC offers education that is accessible. The variety of programs and the number of SLCC campuses is great and we're excited to be a supporter of all that the college does. Education is the key to a better life and we want this for everyone," said Pat Patout, chairman of the board.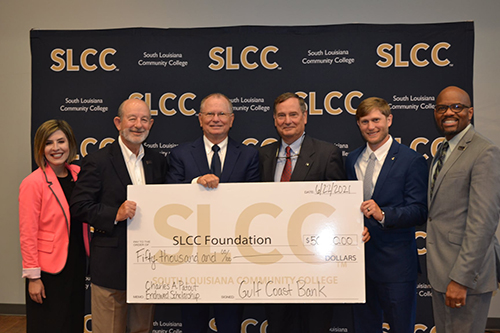 From left: Lana Fontenot, Vice Chancellor for Institutional Advancement and Executive Director of the SLCC Foundation; Brett Mellington, President of the SLCC Foundation; Paul Patout, President and CEO of Gulf Coast Bank; Pat Patout, Chairman of the Board for Gulf Coast Bank; Jason Patout, Senior Vice President of Gulf Coast Bank; and Dr. Vincent June, Chancellor of SLCC.
Charles Patout founded Gulf Coast Bank in 1971 in Abbeville with four employees. Today, the Bank has grown to 9 branches with 120 employees. Patout passed away in 1999 and left a legacy of hard work and service behind him.
"Our father had so much passion for the Bank and all the communities we get to serve. He understood we had to earn customers' business. They have to want to choose us," said Paul Patout, president and CEO of Gulf Coast Bank.
The Charles A. Patout Endowed Scholarship will be eligible for match dollars from the Louisiana Board of Regents, which if successfully funded, will bring the total endowment to $100,000. Once invested, the scholarship will be awarded each year to a full-time SLCC student studying Business and holding a minimum 2.5 grade point average. With the bank's presence throughout Acadiana parishes, any Louisiana resident attending one of SLCC's campuses and meeting the GPA and program criteria can apply.
Gulf Coast Bank has partnered with SLCC since 2013 in a number of ways and was recognized in 2020 as the SLCC's Benefactor of the Year. The Bank has offered time and expertise through its President and CEO, Paul Patout, serving as a key voice on the SLCC Foundation board in its early years of development. In addition, Gulf Coast Bank has partnered with the Lt. Dronet Marine Corps League in Abbeville to offer an annual scholarship for a student who graduated from a Vermilion Parish high school and who is studying at SLCC's Gulf Area Campus in Abbeville. The Bank also helped to underwrite several initiatives and events at SLCC, including the Foundation's scholarship 5K.
"In typical fashion of the Patout family, they are celebrating an incredible milestone in their business by giving back to the community," said Lana Fontenot, executive director of the SLCC Foundation. "The secret sauce behind their success has been genuine care, and it's evident in the way Gulf Coast Bank and the Patout family support the local community."
Under the leadership of the Patout brothers, Paul Patout as President & CEO, and Pat Patout as Chairman of the Board, Gulf Coast Bank has become known throughout Acadiana for its continued generous support and commitment to the local community. In 2019, Paul and Pat Patout received a Certificate of Appreciation on behalf of the American Legion Vermilion Post 29, in appreciation of their efforts and contributions over the years. Gulf Coast Bank was named Business of the Year by the Vermilion Chamber of Commerce in 2019, as well as by the Louisiana Cattle Festival in 2016. In 2015, Paul Patout and Pat Patout received the Community Foundation of Acadiana (CFA) Leaders in Philanthropy award for their contributions to Vermilion Parish and the greater Acadiana area.
The endowed scholarship, which will live in perpetuity, is expected to be awarded beginning in 2023.
ABOUT ACADIANA'S COMMUNITY COLLEGE
South Louisiana Community College is a comprehensive community college that operates campuses in Abbeville, Crowley, Franklin, Houma, Lafayette, Morgan City, New Iberia, Opelousas, St. Martinville, and Ville Platte. The college serves more than 17,000 students annually and offers an array of academic programs. Students earn associate degrees, technical diplomas, certificates, and industry-based certifications. It is ranked 14th among the Top 100 Associate Degree Producers as determined by Community College Week.
ABOUT THE SLCC FOUNDATION
The South Louisiana Community College Foundation is a 501(c)(3) organization organized for the purpose of engaging in educational, scientific, literary, benevolent, and charitable works in support exclusively for the campuses of South Louisiana Community College. The SLCC Foundation secures and manages unrestricted and restricted assets to continually support and enrich the academic and scholarship programs at South Louisiana Community College. The SLCC Foundation is managed by a 17-member board of directors.